We live in a globalized world, traditions and customs are not exempt from this. A particularly good example is Halloween, which has become a fixed part of the "spooky season" in the month of October in Germany. Halloween is otherwise traditionally celebrated extensively with much devotion throughout the month of October, especially in the U.S., with its climax on Halloween night on October 31. In fact, Halloween or Samhain has its roots in the ancient Celtic world and that brings us back to Central Europe. Samhain is a Gaelic festival that marks the end of the harvest season and the beginning of the "darker half" of the year. At Samhain, it is was/is believed that the veil between the physical and spiritual worlds is thinnest and thus spirits can more easily "cross over" to us, hence "the spooky season."
This is not confirmed, of course, but I'm pretty sure that the current seductive-dystopian exhibition at the Schinkel Pavillon, with works by the Swiss master of horror HR Giger (1940-2014) and works by the South Korean artist Mire Lee (*1988), not coincidentally falls in October.
HR Giger - Master of horror
The visionary HR Giger was not only a painter, sculptor and designer, but is best known as the creator of the legendary Xenomorph, the alien species from Ridley Scott's 1979 cult film "Alien."
"Hans Ruedi's dreams were absolutely crucial to his work," says Carmen Giger, director of the Giger Museum in Switzerland and HR Giger's second wife.
"He said that if he hadn't had the opportunity to paint, he would have been a special case for the psychiatrist." Born of the horrors of two world wars, childhood trauma and a heightened receptivity to his own subconscious, the timeless terror of his Alien encapsulates the collective fears of humanity.
Visitors to the exhibition not only have the opportunity to fully immerse themselves in the creation of the alien, but early oil paintings, ink drawings, sculptures and never-before-seen excerpts from HR Giger's private diaries are also presented.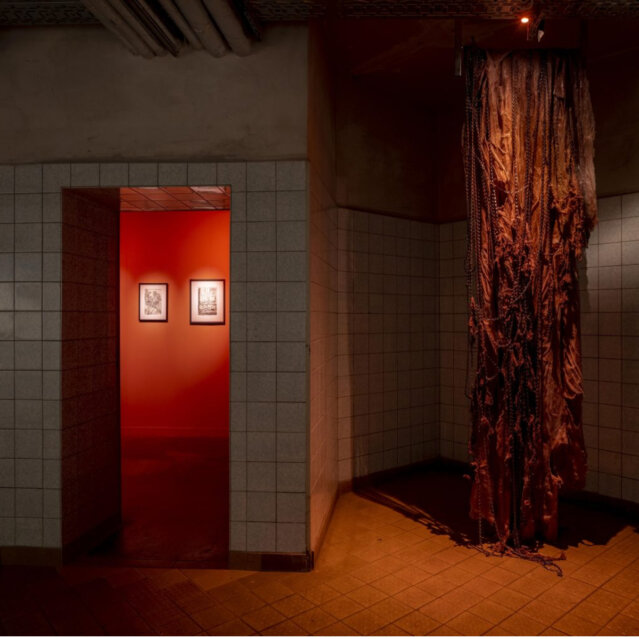 Complex arrangements and structures of the South Korean artist Mire Lee
Mire Lee's new works, developed especially for the Schinkel Pavilion, literally merge fluidly with Giger's objects, transforming the building's main doctagonal space into a "womb-like, oversized waabe."
Lee, who has recently become known for her "kinetic sculptures and quasi-alchemical installations created complex arrangements and structures of silicone, PVC tubing, polyester, and building materials through whose organ-like passages and vessels viscous substances circulate or coagulate into proliferating crusts." Anyone familiar with the basement rooms of the Schinkel Pavilion, which form an extreme contrast to the rooms on the ground floor, can vividly imagine the unfolding and effect of her sculptures, which are reminiscent of "dissected body parts and mechanically impulsive metabolic processes," in combination with Giger's grotesque, mutant-like figures....
Horror De Luxe!
Translated by Alexander Brandes